The development of the first three projects is progressing and taking shape.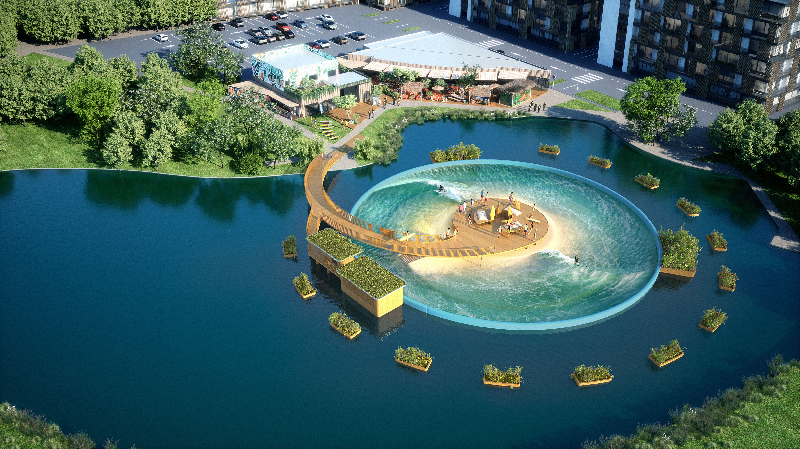 In one of our issues, still available on our online shop, we conducted a major investigation into wave pools. 12 pages of investigation to try to better understand this new trend and the risks to our environment.
In a context where climate change and biodiversity loss are questioning our modern societies like never before, the environmental impact of wave pools is considered by many to be an environmental nonsense.
As we proved in our paper investigation, these wave pools consume a lot of natural resources, destroy biodiversity, artificialize and waterproof natural soils, require immense quantities of sand for their concrete, potable water to filter and energy. All of this adds up to a disastrous carbon footprint.
The summer we just experienced dried up the soils and emptied the water tables like never before in recent years. The warning signals are there.
Among the alternatives to wave pools and the various technologies that seem unreasonable to many, we talked about the case of the Okahina floating atoll, this French green tech innovation which consists of a light floating structure in the shape of a Polynesian atoll that would be positioned on existing bodies of water that it would not denature.
While many projects are at a standstill or completely stopped, we wanted to know about Okahina Wave, this project that is very different from all the others and which should see the light of day this year at the Futuroscope.
Vaires-Torcy, Libourne and Futuroscope are still relevant
The three announced projects are still relevant, namely Okahina Futuroscope, a project signed with the Department of Vienne, but also Okahina Libourne on the Dagueys body of water, a project signed with the City of Libourne, and finally Okahina Paris on the Olympic site of Vaires-Torcy, a project signed with the Paris Region.
When reached by phone, this is what Laurent Hequily, the project's founder, told us:
"We are fortunate to be accompanied by a European Investment Fund that co-finances our first three projects in equity, as well as by the SEM (semi-public company) of the Department of Vienne for the Okahina Futuroscope wave. Other projects are being studied in France and internationally and should be announced by this summer. The structuring of such projects in France is particularly complex, between demanding administrative regulations and investors less inclined to the risk culture than Anglo-Saxons. The context of the successive crises that the world has gone through has not helped. "What is difficult takes time, the impossible a little more," wrote Haïm Weizmann. Our company already has 3 signed projects in the process of deployment. We are eager to see them come to fruition."
Already 3 eco-labels and soon a 4th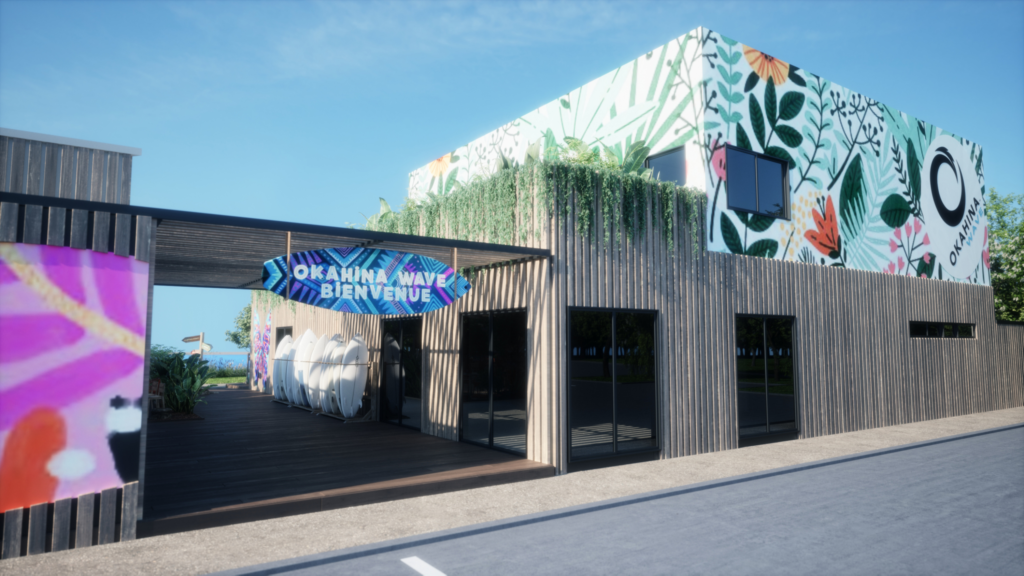 At a time when companies practice greenwashing to excess, it is always preferable to check "eco-labels" in order to distinguish the "real" from the "fake".
This has been done here, and for Okahina, it's serious. The environmental dimension of the Okahina Wave floating atoll was first recognized by its certification as an "Efficient Solution" by the international Eco-Label of the Swiss foundation Solar Impulse.
Then, the project received the EnVol Eco-Label, which brings together companies committed to reducing their impact on the environment, protecting natural ecosystems and biodiversity. This label, created by CCI FRANCE (chamber of commerce and industry), is led by ADEME, the French Agency for Ecological Transition, Bureau VERITAS, and is based on a strict AFNOR (French branch of ISO) standard.
More recently, Okahina Wave has been labeled TIDELINE. BPI France, a major player in financing and developing companies in France, has partnered with Waves of Change, the leading coalition for Blue Growth and Green Economy solutions, to award this label which rewards companies that prioritize collaborative approaches to environmental transition.
Finally, Okahina Wave is a member of the "Companies Committed to Nature" program of the French government entity OFB, the French Office for Biodiversity.
After formalizing a biodiversity action plan, Okahina Wave now intends to be officially certified as a "Company Committed to Nature".
A low-carbon strategy
The estimated carbon footprint of the Okahina Wave floating atoll at Futuroscope was conducted by the independent specialized firm INUK, with the support of ADEME (French Agency for Ecological Transition).
And the numerical data proves it: the Okahina Wave floating atoll would offer a solution with a much better carbon footprint than the current market solutions, namely concrete wave pools.
The Okahina wave system would emit between 25 and 500 times less CO2 equivalent than surf pools, and the carbon footprint of the structure (taking into account its construction, operation, and end-of-life) would represent approximately 20 tons of CO2 per year, or the annual carbon footprint of two average French people. The use of wood and composites instead of concrete and steel makes all the difference.
The Okahina Wave floating atoll would therefore succeed in offering a surf session emitting the equivalent of 1kg of CO2, much less than existing alternatives.
This semi-natural Okahina wave is currently the only one with its floating atoll to be positioned on existing plans, urban water bodies, former quarries, ports, sheltered marine environments… The question of water consumption is therefore no longer relevant.
The SOCOTEC inspection bureau issues a favorable opinion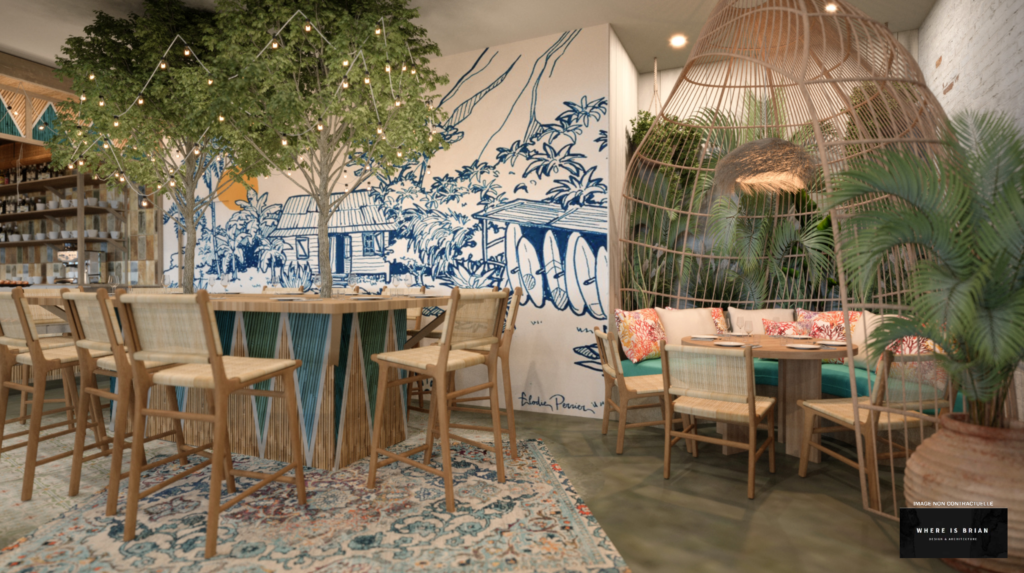 The SOCOTEC Inspection Bureau was appointed for its unique expertise in leisure facility installations, acquired from its clients who are national and European leaders in theme parks, amusement parks, and water parks.
Here's what we can read in their report:
"The robustness of digital models combined with a 1/6 scale prototype allows us to issue a favorable opinion on the expected wave performance for the future installation at Futuroscope at a 1/1 scale: Wave heights between 0.8 meters and 1.2 meters, a wave riding time of about 17 seconds, and a number of waves per hour of 310, and finally an average energy consumption of 130 to 150 kW per hour in Normal Operating Mode."
Thus, the electrical consumption of the Okahina floating atoll will be much lower than that of all wave pool technologies that push water to generate waves. The maximum electrical power required to generate waves on the Okahina at Futuroscope will be equivalent to that of the 100% electric Volkswagen Combi ID.Buzz (150 kW – 204 hp). This low electrical consumption confirmed by SOCOTEC will be even easier to offset thanks to the solar tiles from their partner Akuo Energy, which will equip the roofs of their restaurant and surf house.
Okahina Futuroscope, the new "home spot" for surfers in Vienne?
According to Laurent Héquily: "An Okahina destination will be much more than just a water park where people come to spend a few hours for entertainment before leaving. Our destinations will be the new 'home spots' for locals and a place of life and mixing for enthusiasts or curious people coming from farther away. We want to create friendly urban living spaces, open to everyone, where we can experience the surfing culture while respecting the surrounding territory. Each Okahina destination will be unique, both in terms of the waves that can be surfed – with different characteristics for each one – and the experience that can be had in the signature restaurant/bar, concept store, or nomadic accommodation. Not to mention the cultural events (festivals, concerts, art exhibitions) or sports events (competitions, masterclasses, night sessions…) that will be opportunities to bring local communities to life. We want to offer an unforgettable but also as authentic an experience as possible. And to make people want to discover other Okahina destinations in the future, just as they would explore different surf spots on the coast."