Marc-Antoine GUET Journalist for Surf Session magazine carried out a long and comprehensive survey on the emerging phenomenon of surf pools. He also talks about the Okahina Wave alternative, a floating atoll that creates the first wave of ecological surfing.
Link to extract 1/4
Link to extract 2/4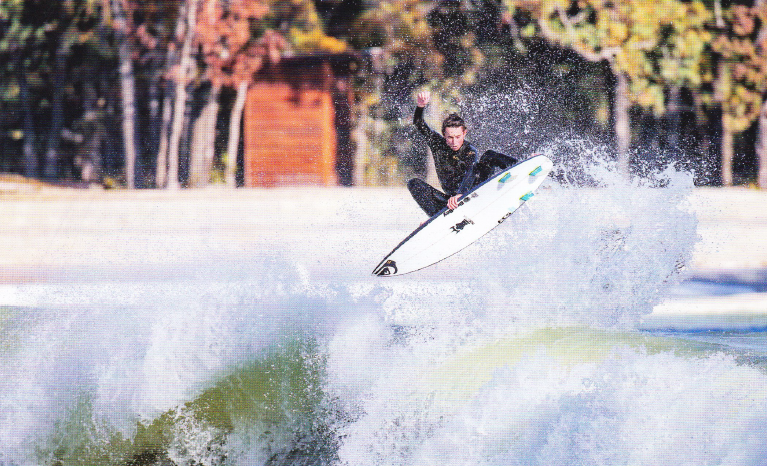 EXTRAITS
"WHAT ABOUT THE ENVIRONMENT IN ALL THIS? "
Following the question asked by Marc-Antoine GUET
Surf Session – Every surfer knows it, practiced in a natural environment, surfing is a demanding sport which requires years of practice. However, not everyone lives near the ocean. Weather conditions (swell, wind, tide …) are rarely optimal. Surfing is a victim of its success and most spots on the planet are now overcrowded. Tensions with water, risks of collisions, frustrations, more and more important trampling of natural spaces such as the dune cords consequently causing a degradation of the sites … Nothing very new but the phenomenon is growing.
The emblematic Breton surfer Ian Fontaine shares this observation – "We must also think about the problem of access to the sea. In France, we are suffocated in certain areas. Just look at the Southwest. People no longer surf because there are too many people in the water. You can very well go swimming in the river and go swimming in the municipal swimming pool. Surfing and artificial waves are not incompatible. Surfing isn't just about guys who live by the sea and have access to water. Surfers come from everywhere today. They too have the right to access the practice. However, uncontrolled projects should not be used. Experts are needed to make sure that everything works properly, and that specifications are respected. Ethically and ecologically speaking, it has to hold water. …. We surf, we are sea sports enthusiasts; we are supposed to evolve in a healthy environment, with a particular ethics. It is important to have projects related to the environment in which it is located and with the least possible impact…. The spinoffs should benefit the local economy and local surfers".
Surf Session – An argument which goes in the direction of that defended by Jean-Luc Arassus, President of the French Surf Federation – "The Federation is close to local structures (clubs, leagues, committees) and will never take a decision to support such a project or such other if the local surfing environment is against. The Federation is always there to help and be attentive to regional projects".
But for Francis Distinguin, it's much more complex – "When you see the health and safety constraints in swimming pools today, I don't know how they will do it. A bird falls into the basin, you have to empty it ".
Surf Session – So what to do ? According to Marc-Antoine GUET, the surfer, by definition, is a less and less rare species which daily faces its contradictions. For several decades already, its proximity to the ocean has given it significant ecological awareness and sensitivity. However, the surfer uses neoprene wetsuits and polyester boards every day. Not to mention traveling by car and plane … What legitimacy to come and give a lesson in ethics?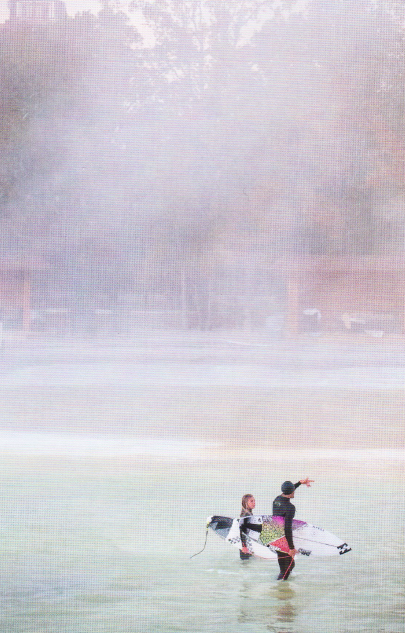 Ian Fontaine is aware of this and does not hide it – "Among surfers, the real debate is more about the type of construction than about being for or against artificial waves. But we are constantly faced with our contradictions. We travel a lot and our carbon footprint is huge. We cannot be ecologists at heart otherwise we would stop doing that. Today, the one who can give lessons is the one who lives in front of the spot, who goes surfing by bike, without taking a car and who only surfs here. And again, even this guy probably uses neoprene wetsuits and polyester boards. The foam bread is no better. You shouldn't lie to yourself and maybe start with that".
Surf Session – And the planet is there to call us to order. When Mother Nature takes over, wave pools can also pay the price. As evidenced by what happened last January in Australia, when the first commercial artificial wave had to be closed several days after the bad weather came to dirty its waters. The dust storm spawned mud, turning the translucent water in the complex into brown porridge .
But beyond the environmental aspect and the sporting objective, what do the artificial waves of our society really say? Are they not simply a reflection of the Man of today? The magic of surfing is intrinsically linked to this set of uncontrollable parameters which, gathered at time T, offers you the unexpected surprise of a good wave .
According to Damien Castera : "In the ocean, the surfer works his patience, his abnegation. He is put in suspense before the unpredictable nature. At peak, waiting becomes a virtue that allows you to project yourself, hope and dream. It is a time when everything is possible since nothing is planned. All these concepts are no longer when you dip a toe in the pool. The relationship between Man and Nature disappears, the marine sense becomes superfluous, the surfed wave is only the reward of a well-filled purse. In the swimming pool, the wave becomes a consumable object, meticulously regulated by the hand of Man".
Surf Session – However, would the painting be so dark? Is the hope of one day seeing a greener project born so far away? Not so sure.
Link to extract 1/4
Link to extract 2/4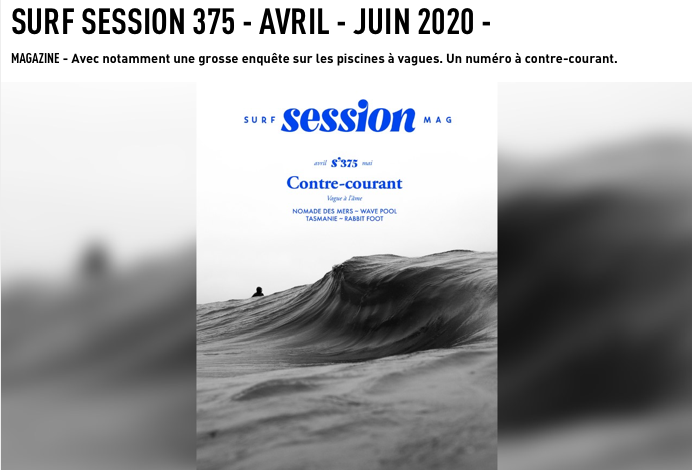 Find this 12-page survey in full (and in French) in the Surf Session magazine (of April-June 2020) available online at shop.surfsession.com